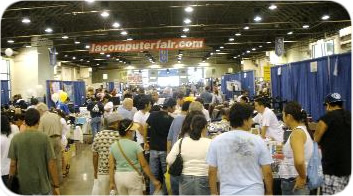 At the LA Computer Fair you will find companies selling computers and other technology products such as, printers, monitors, memory, sound systems, GPS products, software, smart TVs, DVD players, digital cameras, video games, electronic components, cables, connectors, other technology items plus a huge selection of gadgets, tools, toys and other high tech products you won't find anywhere else and at bargain prices!
If you have technology products to sell, this is the place for you. Please visit the Exhibit page for more info.

There are also industry experts there to answer all your technical questions.
This is your chance to network with the most knowledgeable people in the industry.
If you're not already on the LA Computer Fair's VIP Email List Sign Up Now and we'll let you know when and where the shows are, what the seminar topics will be and email discount coupons for admission to you.
Here's some pictures from the last show at the Ontario Convention Center: